As a new Mamil, I have joined yet another social media platform, called Strava, to keep track of my activities, find routes and give/receive kudos for completing rides, runs and different challenges.
Unsurprisingly, I had to agree to Strava's Terms of Service to sign up. This is a 14-page legally-binding document that outlines a bunch of no-no's, like trying to reverse engineer the app. The 'conduct' section has rules 'a' through 't'. The Community Standards, however, read more like a "Philosophy" that is much easier to understand and reflect on.
It feels that even social media platforms have understood that, while they still need to produce 'legal documents', that what users really need are guiding principles. The IT department at Nanjing International School has produced a document that looks more like the latter. Joe Barder, IT Director, and Tom Johnson, Tech Coach, explain:
We had been operating for many years with a set of Acceptable Use Guidelines that read like the 10 Commandments and was not really in line with our school mission as An Inclusive Learning Community. Additionally, it did not provide our students, teachers, or parents with any idea of what "acceptable use" meant outside of the classroom or by extension, outside of school.

Joe Barder and Tom Johnson developed NIS's current Digital Citizenship Philosophy.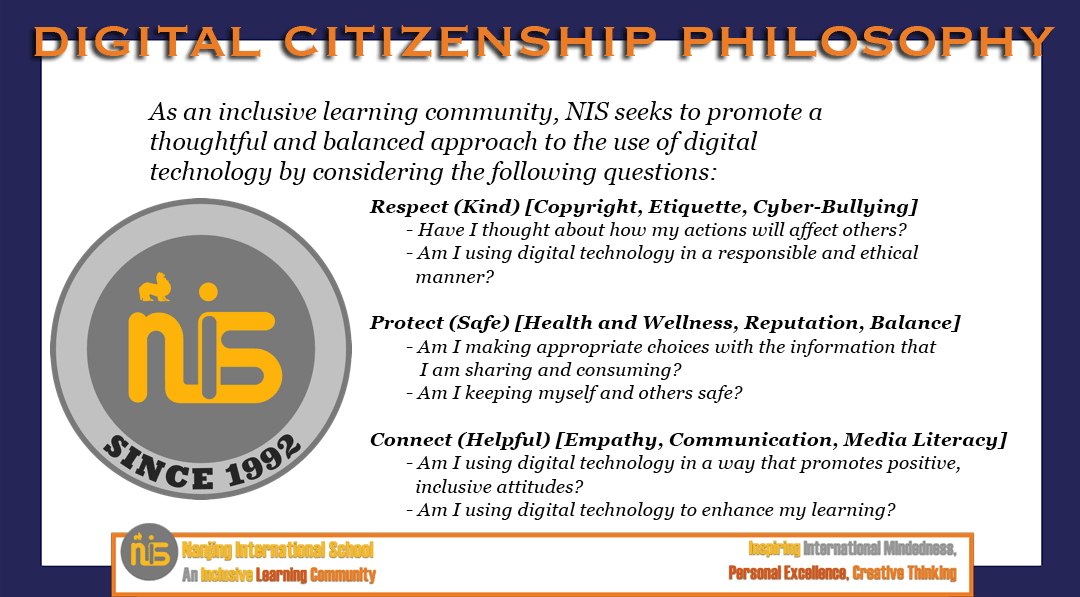 To make sure this document doesn't just live on the school website, it was actually built around some Responsive Classroom strategies. So, the questions we ask (others or ourselves) are similar in the digital world to the ones on the playground during recess:
Is it safe? Is it kind? Is it helpful?